STYLE. CHECK
BEARD. CHECK
LEGEND. CHECK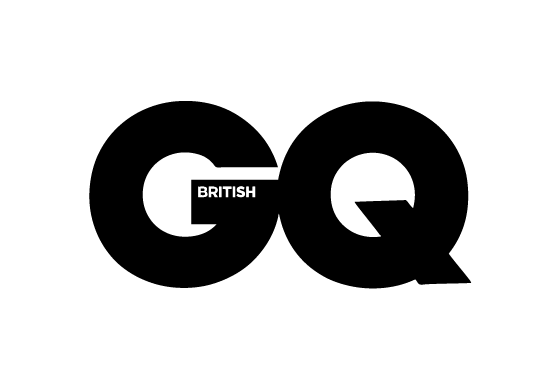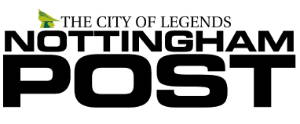 MAKING.
LEGENDARY.
BEARDSMEN.

Quality Beard Products Handcrafted in (UK) Nottinghamshire

What we're striving for at Robin Hood Beard Company is to bring something legendary to the bearded world whilst keeping the roots of Nottinghamshire, producing beard grooming products that are unique, easy to use, bring history to life and be of great benefit to our bearded brothers everywhere.

Using traditional - yet effective methods of manufacturing to allow our handcrafted quality to deliver our message.
 
Purposefully taking the brand back to the 14th century and concentrating on the 'Legend' that is Robin Hood, creating beautifully bold scents from that time-frame and adding Nottinghamshire heritage that every beardsman will appreciate, experienced or beginner.

We don't mass produce and we don't over-complicate our formulas like we've seen from a lot of big brands, we only put in 'what's necessary' - Nothing more, nothing less.

In 2016 - We began our journey.

In 2017 - We released The Outlaw collection into the beard world, so far proving dominance in being our best selling beardcare products of all time, also increasing our product range, introducing moustache wax and moisturising multi beard balm.

In 2018 - We have plans for expansion, bringing a new level to the brand, new products and the lifestyle.


' You've really got a good set up there and from what I have tried your products really are second to none. I look forward to keeping an eye out for what else you guys bring to the table in the near future!! '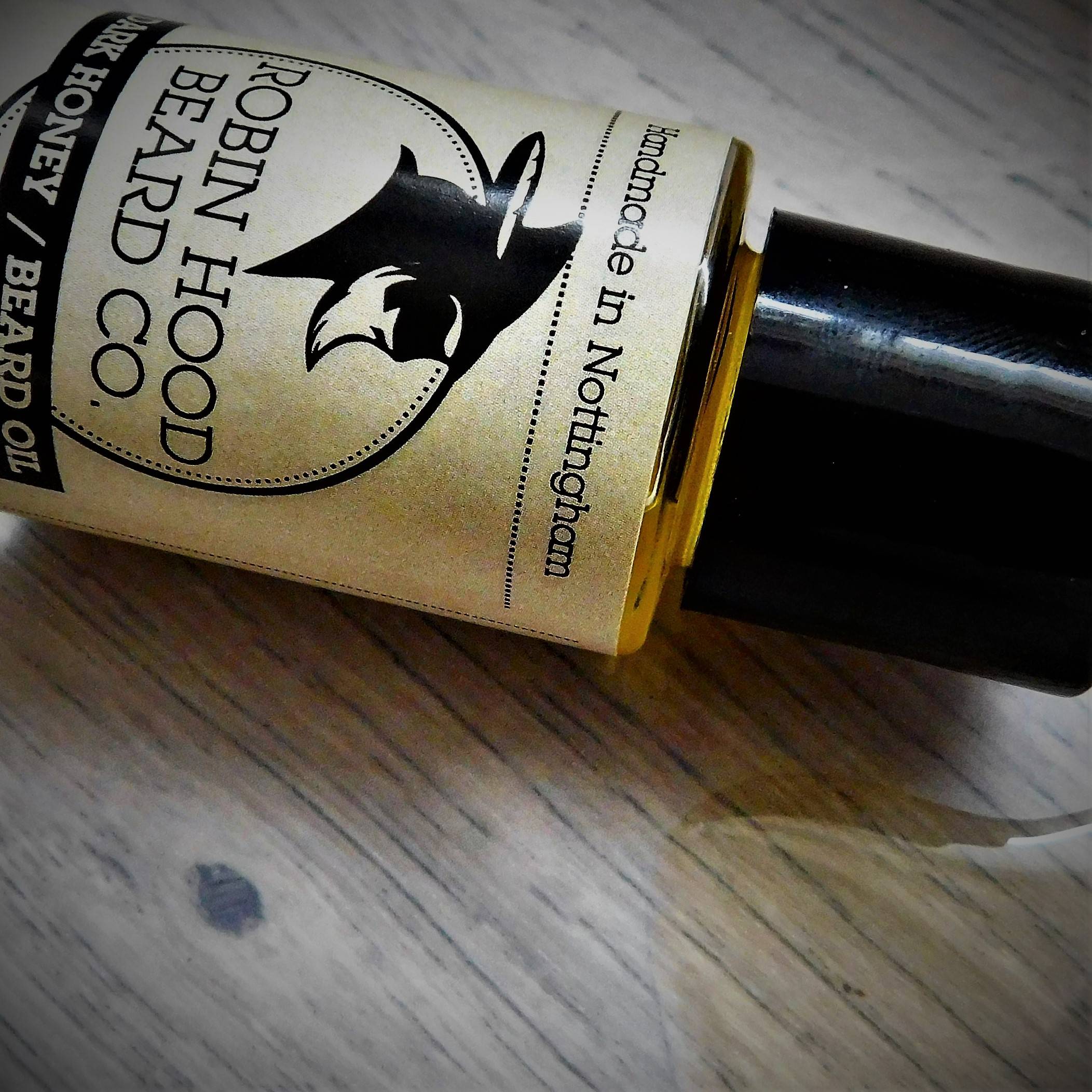 This is the one beard product that every beardsmen should have in their beard grooming arsenal. We've made our Beard Conditioning Oil using the finest quality carrier oils, (of course, all by hand to keep to our ultra high standards) to ensure your beard stays in the best possible shape.

Do you and your beard a favour by using this daily to avoid an array of beard problems, irritations and general hassle - and instead enjoy a beard that smells freaking awesome, is soothing to touch and looks just how your beard ought to look. Epic.

Treat your beard here.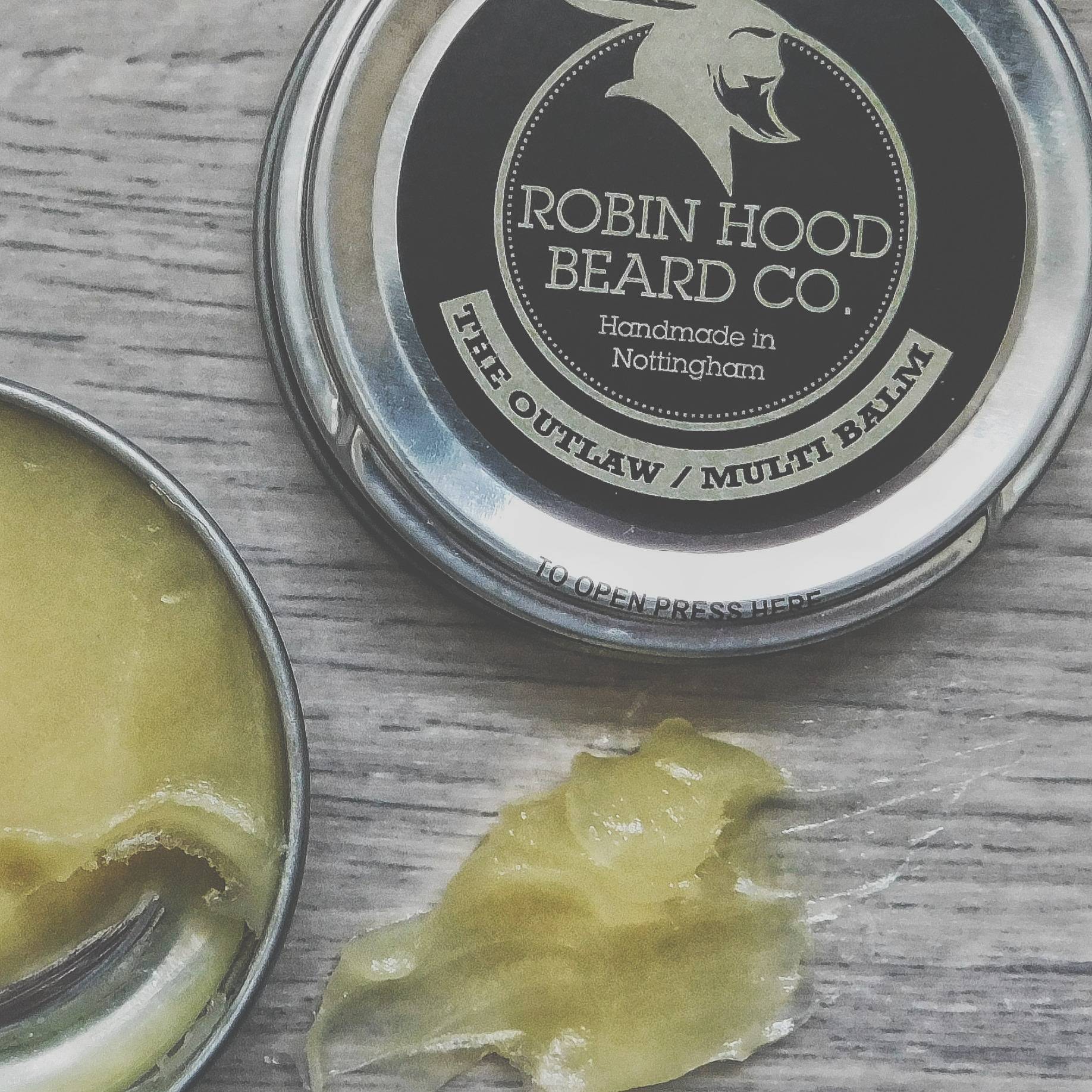 Our Multi Balm is an innovative take on a traditional beard balm the way it's purposely created to help with moisturising your beard - we like to think of it as a beard moisturiser come leave in conditioner. Why do we call it multi?

Cause it basically performs several jobs for your beard all at once. It keeps your beard well hydrated, offers a reasonable amount of natural hold - plus it leaves an awesome lingering fragrance in your beard too. If you were to ask us to just choose one beard product to live with?

This would be it.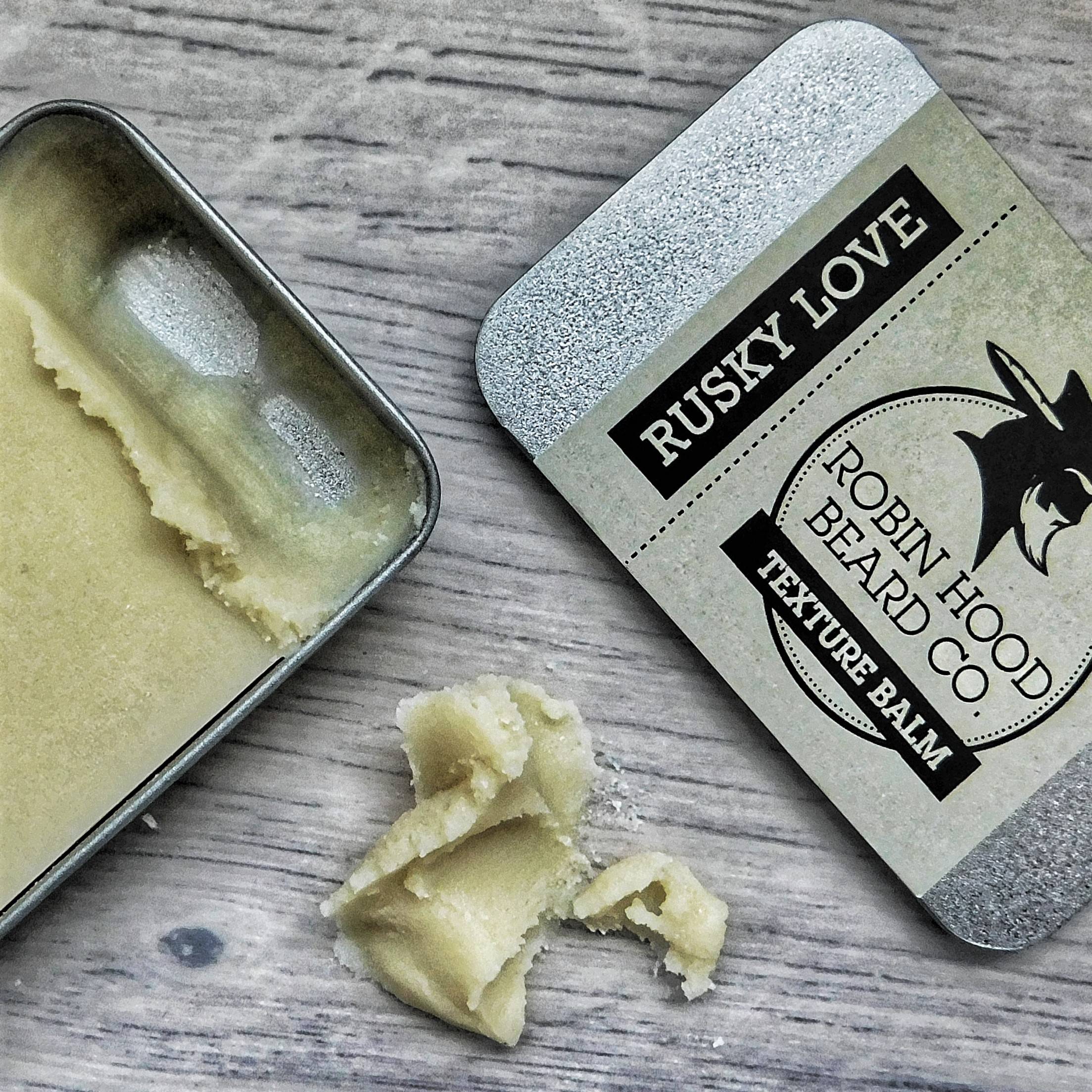 If we had to name one product that we are potentially most proud of? I think our Texture Balm would definitely be it. It's an out and out styling product for your beard (but has some conditioning properties to make sure your beard is still staying in the best possible shape).

Of course, this is ideal for guys with quite frankly - beards that are just plain getting out of hand need some product to help reign in all the hairs that are sticking it out. It's also a great product to turn to just for guys wanting to provide some structure and shape. Not to mention it helps it smell freaking awesome too. Did we mention they come in neat little sliders as well to carry around with you.

Grab a tin and style up your beard.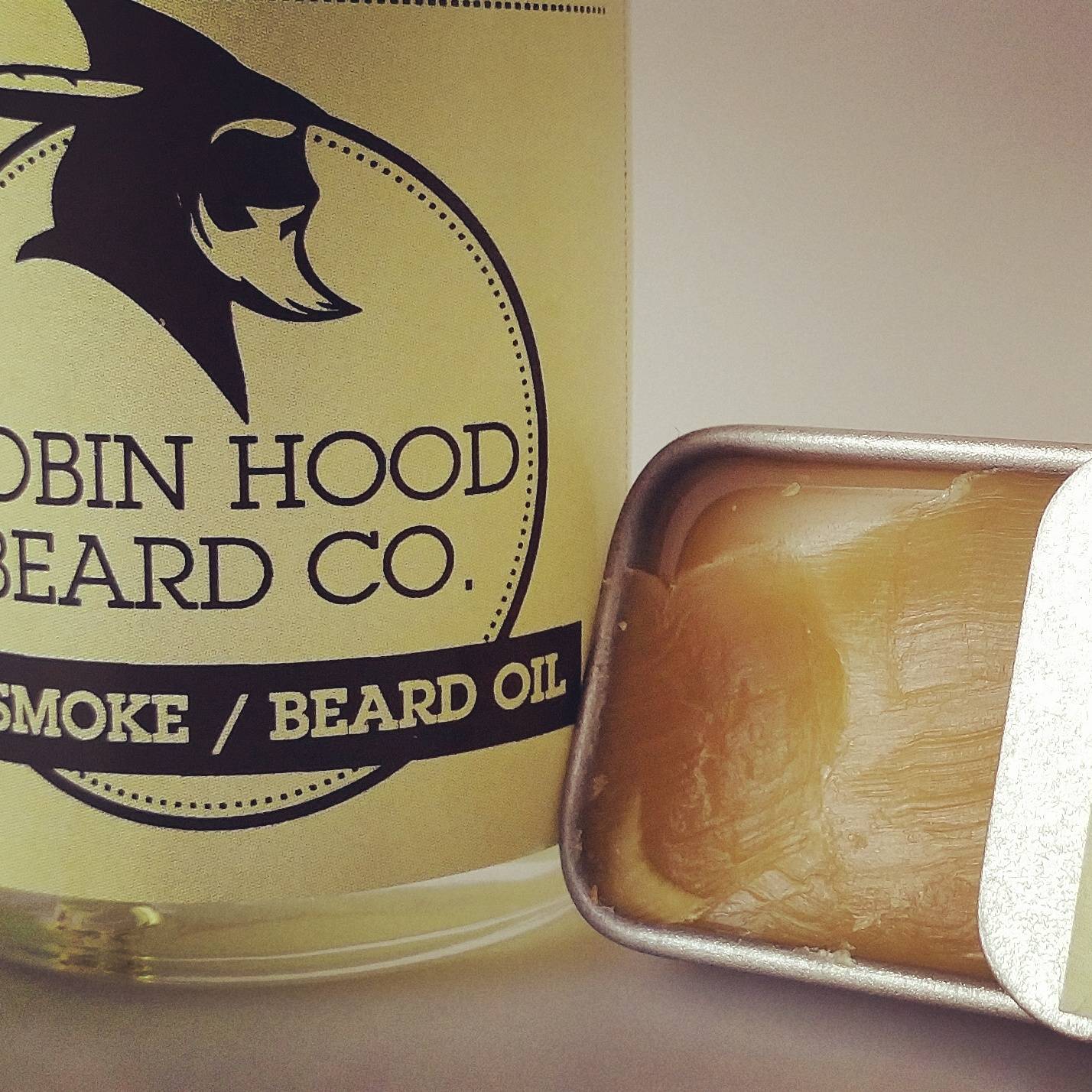 This is one of the most glaring mistakes we see beardsmen make. They take care of the main body of their beard, regularly supply it with oil, groom and shape the main body of their beard with beard balms. However, they seem to always neglect their unruly whiskers.

Applying just a bit of our extra strength textured moustache wax can really help bring your moustache to life and benefit the whole look of the beard. Again, our moustache wax is scented to ensure an additional fragrance is kept in line with our beard products. We highly recommend it as an addition to any beardsmen sporting solid moustache game.

Pick up a tin of stache wax.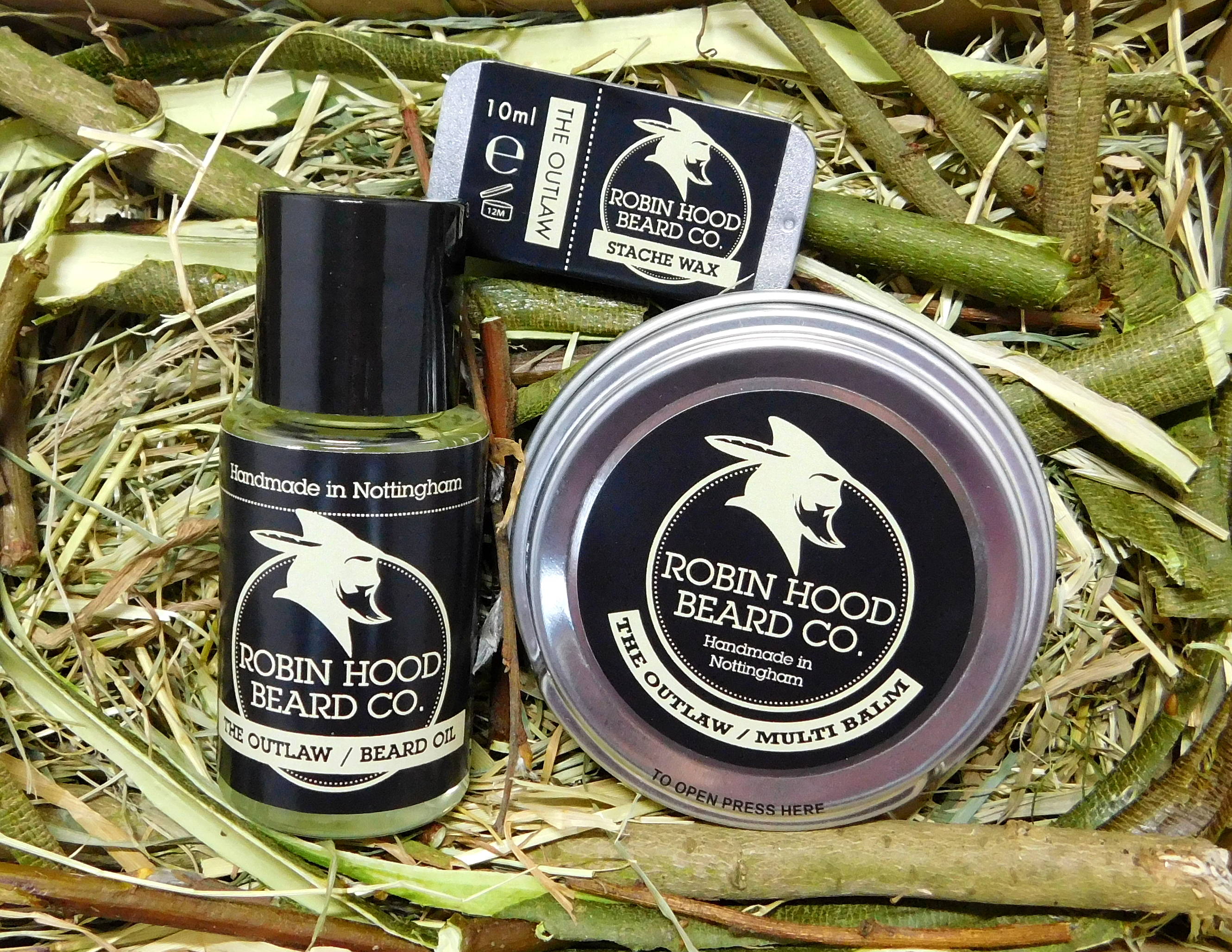 This is a recent addition for 2018 and it came about for two main reasons. First, we want to keep things really simple for beardsmen - if you want everything you need in your first few months (this is the kit you need). Secondly, we want to help you save money - that's why we pass on some of the savings to you through these kits compared to if you were to buy the products individually.

Plus, all in all - they do make for pretty epic beard gifts. Even if it is just from you right to your beard - at the end of the day it's your beard, it deserves it. What comes with it? Our best Beard Conditioning Oil, our all round Beard Moisturiser Balm and last not least our whisker saving Moustache Wax.

Go ahead, your beard will love it.


Just get in touch.

Literally, drop us a line and we will be with you as soon as we can.

Growing and owning a beard isn't as simple as it seems? Just put down the razor and wait it out, yeah, we wish. There's a lot of grooming and care that goes into it and with that things can sometimes get a little confusing. "Which product should I use for my type of beard?", "How often should I use it?", "How much".... And so on.

We get it, we've been there ourselves and besides there's nothing we love more than talking to guys who are getting into the beard game or are just wanting a generally hirsute furry chatter.

Ask us anything about our products or just general beard grooming advice, we've already produced a fair collection of our top advice over on the blog - but if there's something you want further clarification on or something that hasn't been mentioned.

By all means, do not hesitate to just send a message over. We're looking forward to it.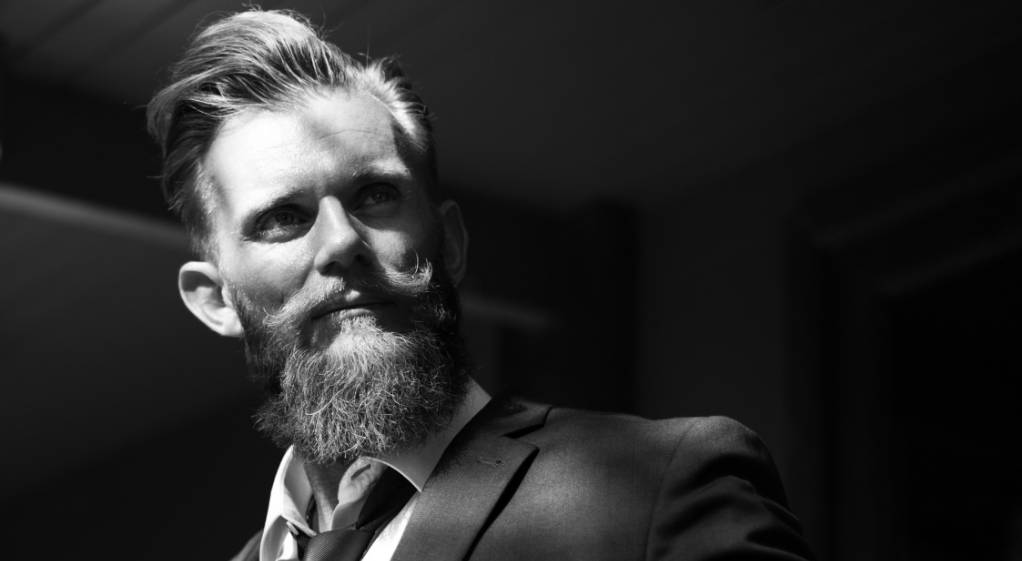 So you are looking for the best beard
gift to get for a special beard in your life?

Whether it is for your boyfriend, brother
or father (hey, it might even be yourself).

Today.

We've narrowed down 5 great beard gift
ideas to really treat a beard.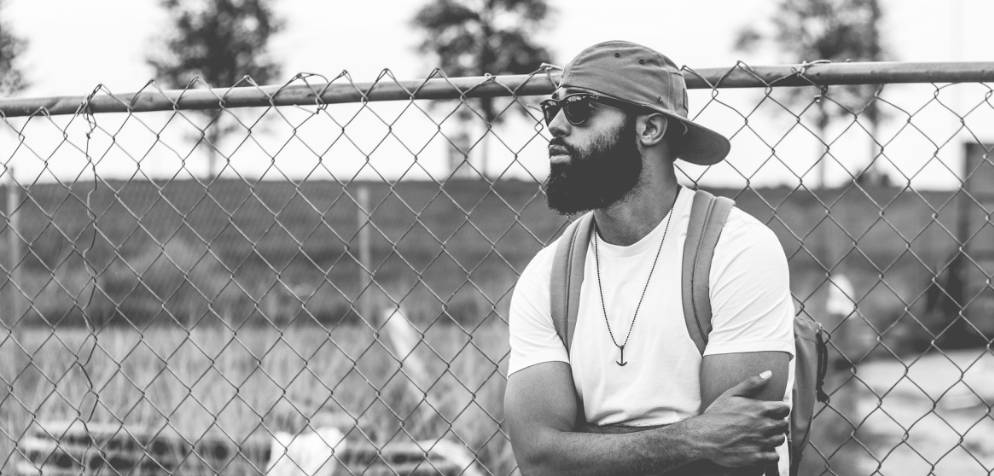 As a beard company that loves talking with our customers and fellow beardsmen. We get to
hear exactly what your beardy problems are.

And the number one issue that we hear almost
on a daily basis? You guessed it. It goes along
the lines of

"My beard is darn-right, crazy itchy".

Whether you've got a seriously wiry, dry beard
going on or at that particularly awkward
stage when your facial hair is neither beard
nor is it stubble.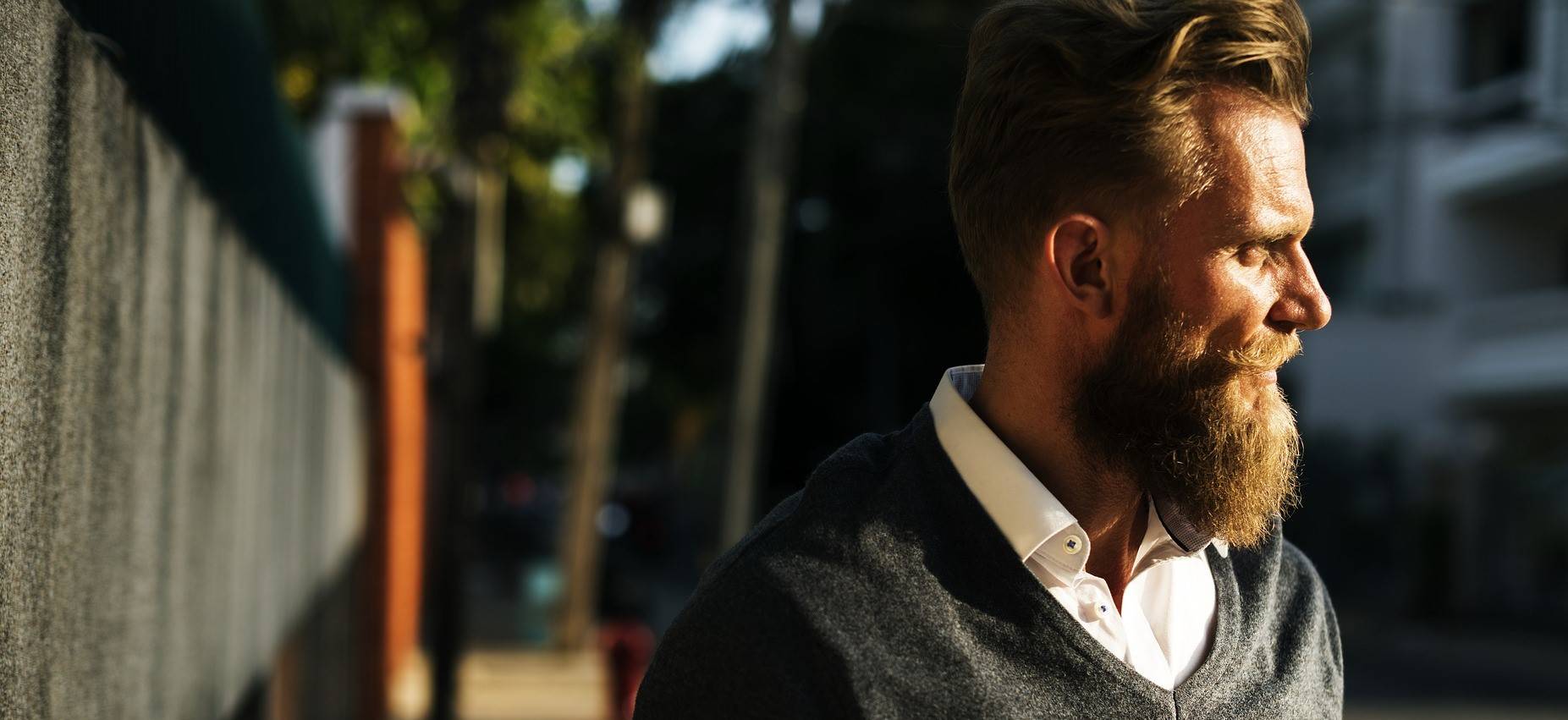 Now before we go any further with this
styling tutorial on beard straightening.

We just want stop those curly bearded folk
out there and say (from all of us).

That we are big fans of the curly beard,
and you shouldn't feel any pressure to
straightening it out, letting loose is more
than fine with us.

We get emails in and get asked this question
almost all the time. So we thought, a simple
but thorough guide on just how to go about
getting a straighter looking beard.


' Really like the subtle fragrance of the Rusky Love multi balm, a clean fresh smell that lasts, the balm made my beard shiny soft and manageable throughout the day just had to comb it now and again, It came in an impressive click top tin which is ideal for opening and closing with oil on your hands.Will be recommending this product to all my bearded friends '



' Oh praise the God of beards, this balm is so
damn good! The result is the most incredible
scent and even my wife has commented on how much she loves this scent and that rarely
happens. My beard feels soft, it has a nice hold,
it is easily worked into the beard hair and all in
all I cannot recommend this balm enough. It is
one that I want to shout about from the rooftops! '


' This balm is different from anything else I've tried, it's really smooth and easy to put into your beard, makes your beard feel great and the amazing scent lasts all day '


' Thank you for this amazing present. Awesome smell as well ...... The Outlaw beard oil and multi balm by @robinhoodbeardcompany '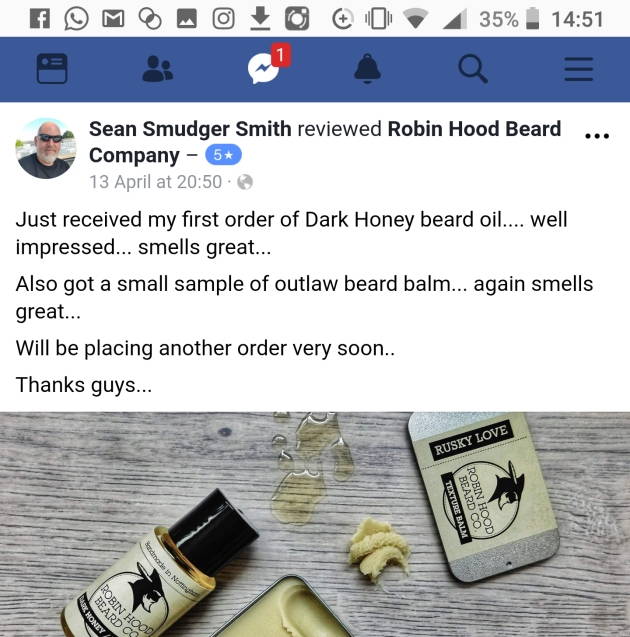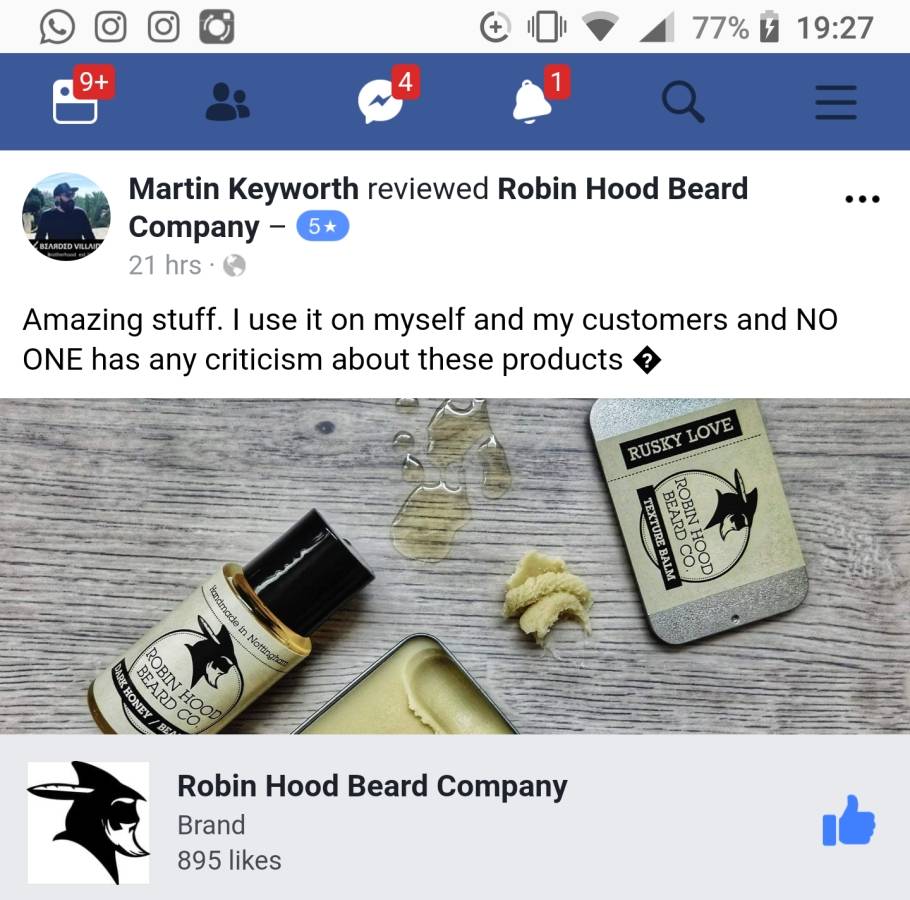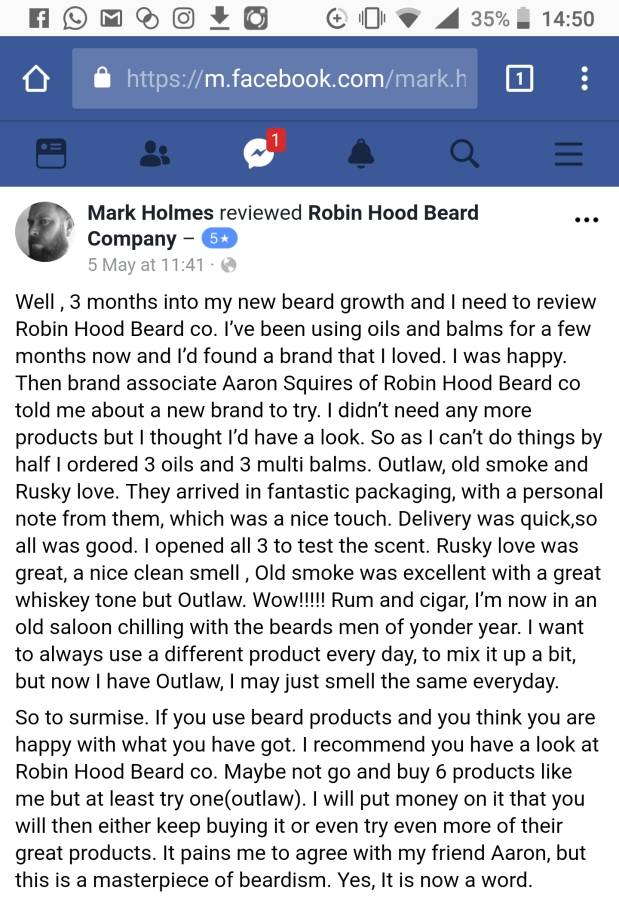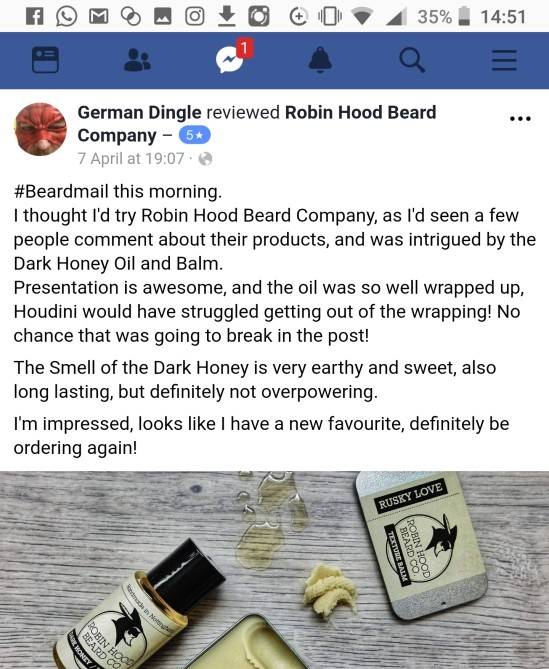 ' Ordered the Old Smoke Tache Wax after being reccomended by a brand ambassador and I've got to say I'm not disappointed. Good hold and the scent is long lasting but not overpowering. Delivery was fast and the balm sampler was a nice touch. Will be ordering again! '


' Absolutely stoked with my Dark Honey Texture balm - seriously impressive stuff. But I'm more blown away by the smell of the Outlaw Multi Balm sample you sent me. Love it but there's nowhere near enough hold for what I need. Any plans to make an outlaw texture balm? '